Table of Contents
What are promotional products?
Promotional products are really any item branded with your company logo and usually given away for free.
Sometimes you'll hear people call them "promo products," "swag," or "freebies."
And guess what? Promotional products go way back – all the way back to George Washington.
The year was 1789. George Washington was unanimously chosen as the first president of the United States. Washington's grand inauguration ceremony was marked with crowds of spectators proudly wearing their patriotically decorated buttons. These commemorative buttons birthed the beginnings of what we now call "promotional products."
Soon after, we see the rise of other promotional items such as almanacs, calendars, and rulers.
But the man most view as the "father of promotional products" was Jasper Meek. He was a newspaperman and printer from Ohio. Meek began handing out burlap book bags to local schools in order to promote his newspaper and keep his presses running during slow times. Promoting his business with these bags was a big success, and the rest is history.
Do promotional products work?
A resounding yes! You reap what you sow.
When you give a gift, even if it's small, you're showing generosity.
Be generous towards your customers and they will be generous towards you. (Proverbs 11:24-25.)
And when you give promotional products, your customers will remember you. In fact, 85% of all consumers remember the advertiser that gave them branded apparel.
"I can't think of another advertising medium that reinforces branding like a promo product. Every time someone uses a logoed travel mug or looks at a calendar, that brand is making an impression on them. If it takes about 10 interactions with a brand to make an impression, imagine what 1,000 will accomplish."

Nate Kucsma, executive director of research and corporate marketing at ASI.
Be remembered and it will translate into new customers and a boatload of repeat business.
Promotional Product's Low Cost
The cost per impression (CPI) of promotional items can be as low as 1/10 of one cent – that's lower than nearly any other advertising medium! – making it a great choice for small businesses with smaller budgets.
What does CPI (cost-per-impression) mean?
The CPI is the amount of money you spend to get one view of an item. Say you spend $10 on a branded shirt and that shirt generates 1,000 views over its lifespan, the CPI is one cent – that's incredible.
Here's what one of our clients said about Promotional Products:
"Promotional products are great. They get our name out where others can see it, bring in repeat business, and customers are thankful to receive them."

Lamar, Farmersville Butcher shop
What promotional products are most effective?
Too many articles are floating around the web only guessing at this answer. That's not helpful to small business owners. We need real insights.
Here's where Joshua DuBois from Gauge.ai can help us.
Joshua's software – used by big names like P&G, A&E, NBC Universal – records information from thousands of cultural leaders every day so businesses can navigate the changes ahead.
You read that right. Thousands of cultural leaders. Every day. Representing communities everywhere. AMAZING technology. And with this kind of insight, small business owners can ride big waves into the beaches of future success. Can you say, hang ten? 🙂
So what does his deep research reveal about what promotional products are most effective for 2022?
It's this: People are done with isolation. They're ready to have friends and family over. And they're ready to go outside and do vacation.
What does this mean for you?
If you want to give out promotional products that will drive repeat business and draw in new customers, you'll want to give out items that will be used for family gatherings and outdoor activities.
Give out items like backpacks, umbrellas, and camping chairs. And people will be inviting friends and family into their home again – so give out promo items that revolve around food and the kitchen.
That leads us to the big moment you've been waiting for…
10 Promotional Product Ideas for Small Businesses
1.) Nike Departure Backpack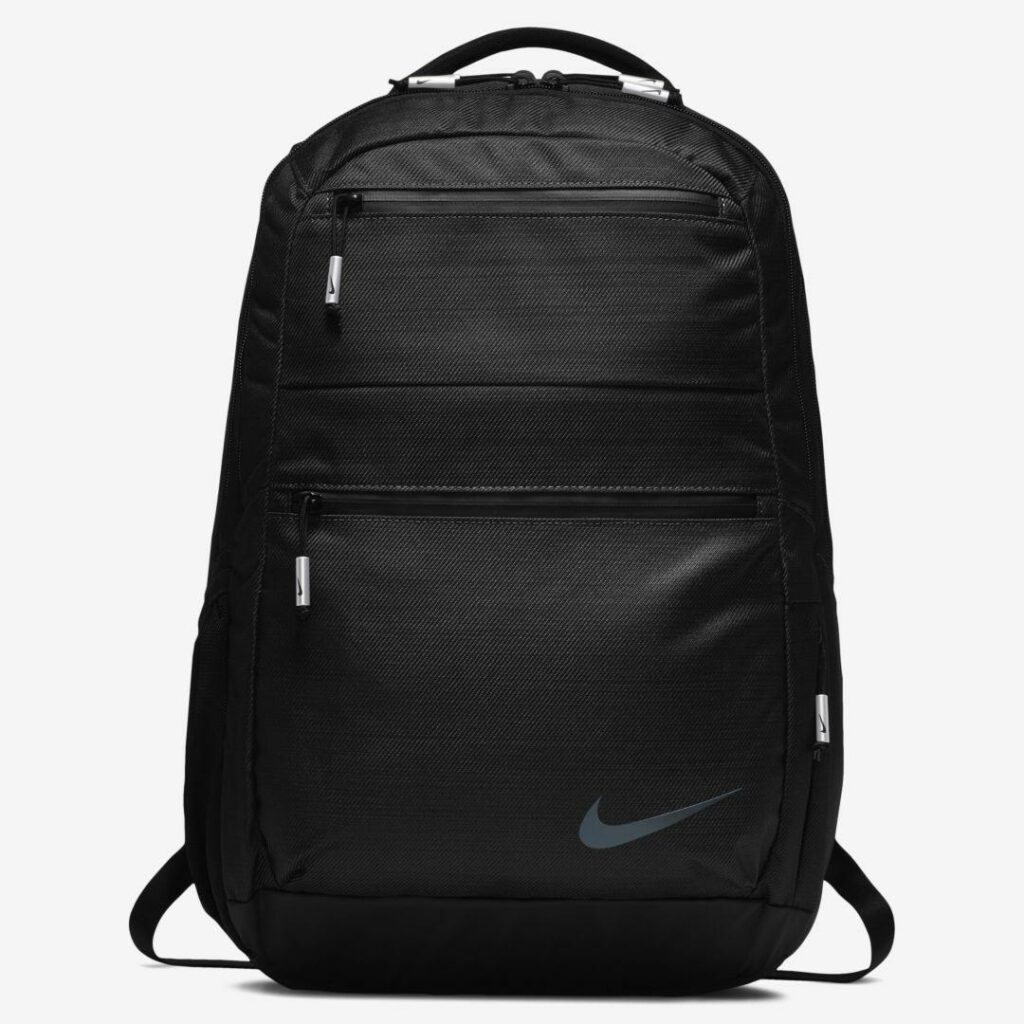 Your customers and employees will love this backpack.
It's made of durable polyester twill material. Zippered pockets to keep small items safe. It has a special pocket which is fleece‐lined to safely hold fragile items. And includes Nike Max Air straps so you don't have to nurse your sore shoulders the next day. Add your logo for instant fame.
Reach out for pricing.
2.) Recycled Cotton Market Bag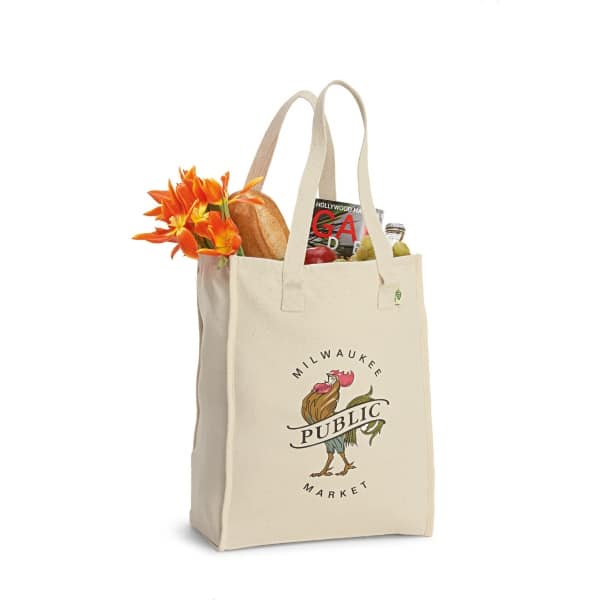 From shopping trips to vacations, people carry bags with them all the time.
Hand out useful bags like these, and your brand message will go everywhere they go.
This full-size grocery bag with sturdy 22″ shoulder straps has plenty of space for you to add a message, logo, or slogan. Reach out for pricing.
3.) The Deluxe Chair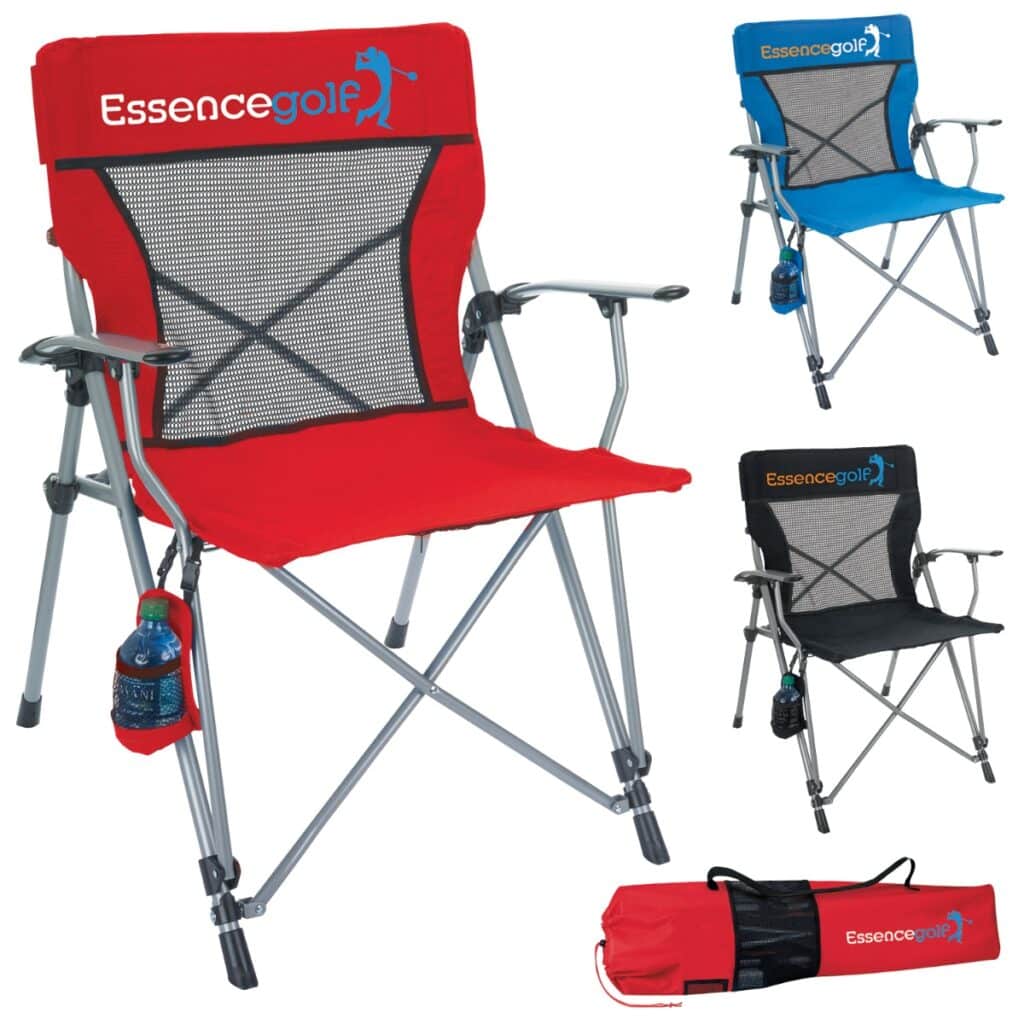 With everyone getting out more, they're going to be looking for a place to park it.
Offer them our most popular promotional chair. It's a sitter's dream. I can't even come up with any good reasons to stand anymore.
This chair features SST (support seating technology), which provides a large amount of comfort and support. The durable weather resistant fabric and lightweight steel alloy frame make it a home run for any company. It has a mesh back to keep you cool. It measures 42 x 11 x 6. And it folds down to fit into the carry case. 300 lb. weight limit.
4.) 48″ Arc Umbrella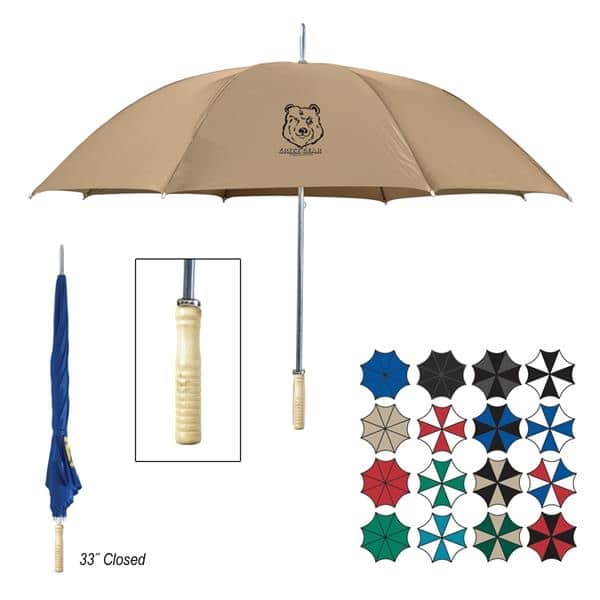 Keep your customers and employees dry with a stylish Ark umbrella.
Made of nylon material, this 48″ automatic open umbrella comes with a metal shaft and wood handle. It measures 33″ when closed. Available in several different color combinations.
This is one of those promotional items people will hold on to for a long time, giving you much exposure and a great return. Reach out for pricing.
5.) Hats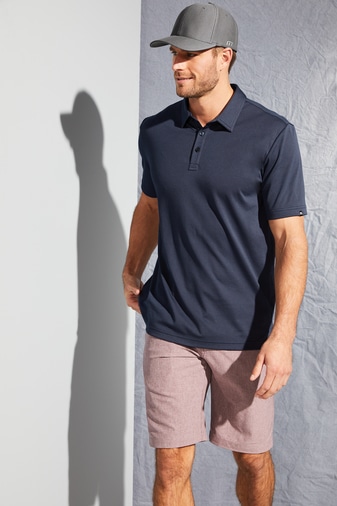 Hats are popular.
And what better way to promote your business than by slapping your logo on the front of a hat.
We have loads of popular options. Reach out directly and we'd be happy to get a quote for you.
6.) Rain Jackets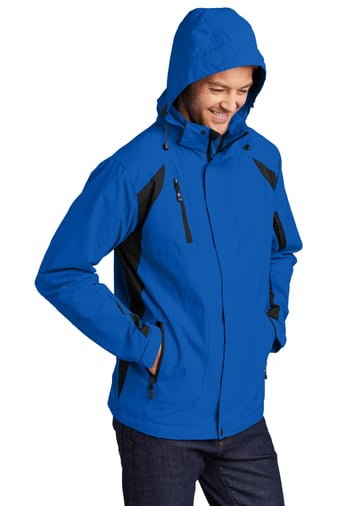 Give customers and employees their new favorite All-Season Jacket.
They'll wear it everywhere.
Our All-Season II Jacket is waterproof and critically seam sealed. Colorblock panels at the sides and sleeves give this jacket year-round appeal. Tell us how many you'd like and we'll send you a custom quote.
7.) Old Mountain 8″ Cast Iron Skillet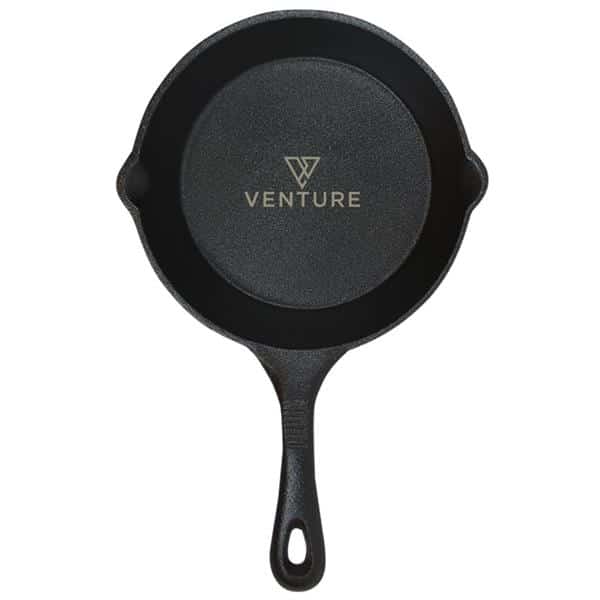 With people feeling comfortable inviting friends and family over again, they're going to need a little help creating meals. That's where you come in.
Here's your chance to get a truly useful and unique promotional item with your logo as the center of attention.
This pre-seasoned and ready to use Cast Iron skillet heats evenly and steadily on all cooking surfaces, including grills and campfires. It boasts of a long handle with thumb grip. Interior diameter cooking surface measures 5.75″.
8.) Circle Jar Opener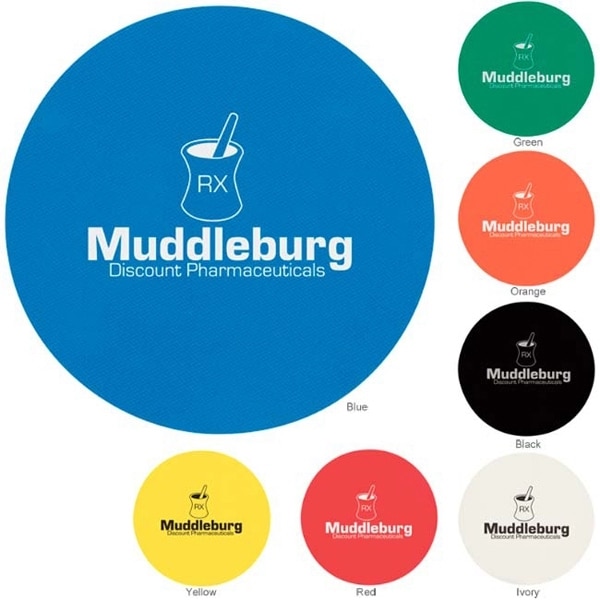 If you live in Lancaster County PA, you know we like jars!
From apple butter to sauerkraut, we can everything here.
But we can't always open our own jars.
Available in custom shapes and colors, this circle-shaped jar opener is made of open-cell, sponge rubber. You'll be remembered as coming to your customers' rescue again and again with this terrific giveaway.
9.) Arctic Scoop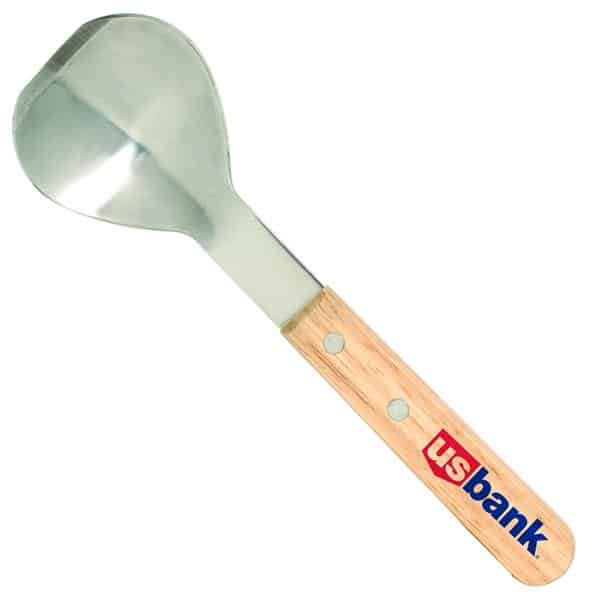 This is a best seller.
Make easy work of advertising when you promote your brand with this arctic scoop!
Measuring 9 1/8″, this ice cream scoop features a heavy-duty metal ice cream spade and sturdy wood handle. It features both a sharp and smooth edge for easy scooping.
10.) Peeler-Pal Vegetable Peeler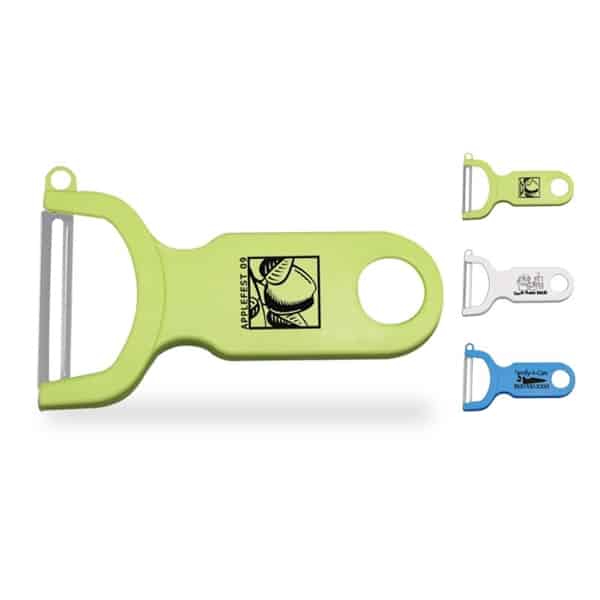 Kitchen friendly and oh so handy and helpful.
This vegetable peeler is a must for every kitchen.
Extra-sharp blade in stainless steel. Each blade has a removable, protective, vinyl strip for safety in shipping and initial handling. Extra-large hanging hole for ease in storage.
Browse our catalog for even more ideas
Need more ideas? Browse our online catalog to see our best-selling promotional products.
Don't let your company be forgotten
There you have it. 10 promotional product ideas for small businesses. Backed by real research.
Don't let your company be forgotten. Keep your name in front of your customers with promotional products and watch your sales increase.
Ready to order? Get in touch. We can't wait to serve you.